The Lying Sinner | Selma Sins | Jack Hammer
Dec 31, 2014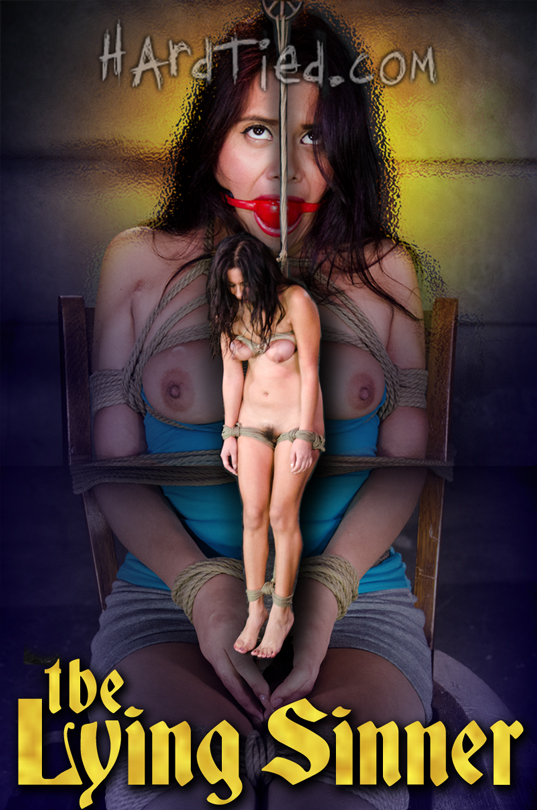 There's only one way to cleanse a sinner. It isn't prayer, it's punishment. Selma Sins wears her disgrace like a badge of courage. She's a filthy, little thing, flaunting her body and her love of sex. We need to teach her to be more humble, more modest, more submissive.

Jack Hammer is equal parts her confessor and her tormentor. He has a million ways to purge her of her impure thoughts and make her regret all of her impropriety. He will take the best pleasure imaginable, the sweet release of a long denied orgasm, and combine it with all of the pain of rough rope bondage and harsh corporal punishment. Selma doesn't know it when he begins, but by the end of this she will be begging him for permission to cum. And when he gives it to her it will be the best time of her life. From that moment on she will be his obedient slave, if only to have a chance at repeating it.
Lush Latina Selma Sins stuck
in stocks and dicked down hard
from both ends, epic
deepthroat! | Selma Sins | Matt Williams | Jack Hammer
May 30, 2014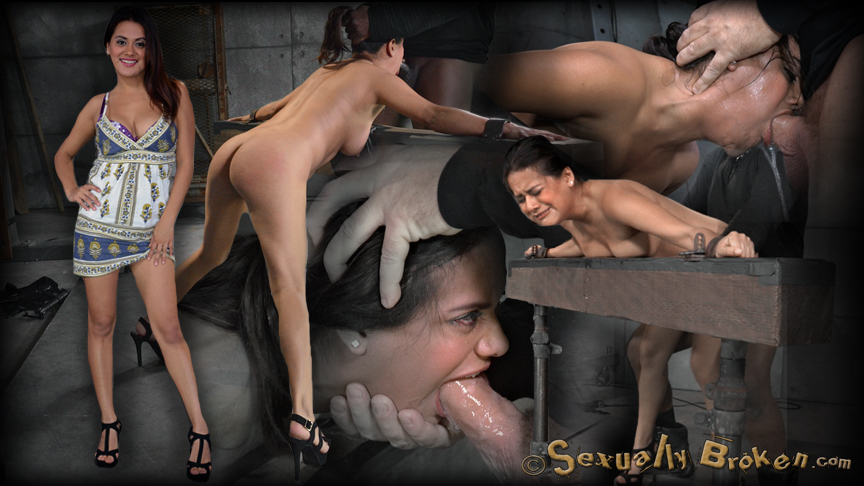 We are happy to have back the fresh face Latina next door known as Selma Sins, along with her powers of super drool. We have never met someone who can produce the amounts of thick drool that this one can, we should put up hazard safety cones. Today is about thoroughly owning both ends of this eager fucktoy.

The set up is both simple and effective, a thick wooden beam and some shackles. Bend this slut over the beam and shackle her down and we are ready to have some fun. That is all it takes to completely immobilize this slut. We have free and ready access both ends, all of her holes belong to us. We step up and make full use of our holes for the day.

Starting her off with some flogging on that juicy young ass to put her in her place, we turn that ass a nice shade of rose, before introducing 10 inches of BBC right down the back of her throat meat. Her legendary drool pours out and covers the floor. This slut is unraveled into a hot mess almost instantly. All it takes is some bondage, a few hard dicks and a little hole training to make little Selma a foggy-eyed puddle of flesh. She is beginning to grasp the true meaning of sexually broken.

We do not let up. Picking up the pace, the dicks drive Selma deep into sexual subspace. She cums hard, relentlessly, over and over as the cocks plunge into her helpless holes. We throw in the vibrator just to rip yet more orgasms out of that fresh pussy. Some deep, brutal throat training drives our point home and leaves our shattered starlet draped over the beam, drooling profusely. Enjoy the ride my dear...
Fresh faced Latina Selma Sins
gets railed by 2 guys brutal
deepthroat on BBC, fucked hard
and rough! | Selma Sins | Matt Williams | Jack Hammer
May 5, 2014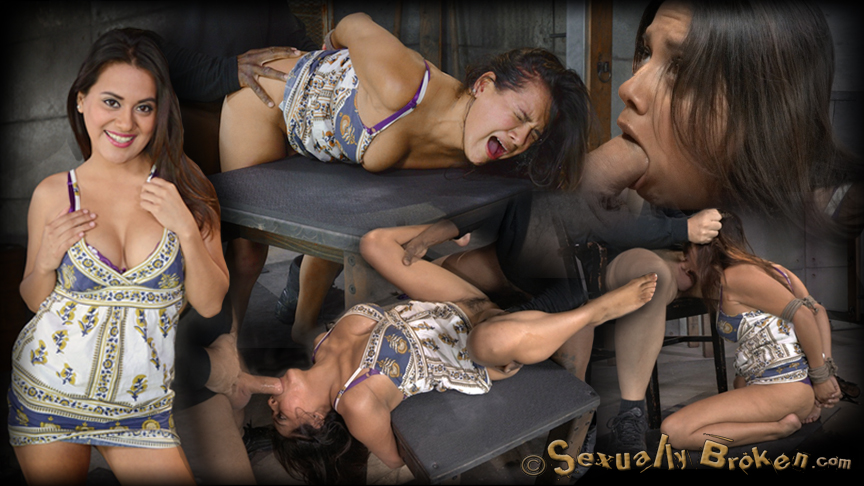 Today we happily welcome back an eager newcomer that impressed us last time with her stamina and dedication to the dick. Selma Sins and her keen throathole are here to get railed as only Sexuallybroken can deliver. We are bringing not one but two cocks to the table to properly break this bitch down. Selma is going to get fucked silly today.

We start off with a simple wrist tie. That is all it takes to render someone completely helpless. Once Selma is properly immobilized, we drop her to her knees. Most sluts look better on their knees and Selma is no exception. Pulling up two comfortable chairs, we pass Selma and her facepussy back and forth like a party favor. She gasps and drools as her legendarily sticky throat lube flows out of that well used mouth. This throat training is just the warm up though.

It is time for the main course, and we pull up our handy and much used fuck table. The bondage keeps Selma completely restrained but gives us the freedom to ragdoll fuck her from both ends in every possible position and angle we so desire. We tag team her without mercy, never getting a chance her a chance to get on top of it or catch her breath. 10 inches of rock hard BBC is shoved down her throat while another dick drills her pussy, owning every inch of her tender flesh.

We flip her back and forth, keeping up the relentless pounding as Selma drifts off into sexual subspace. She is an undone puddle of well used holes. Her eyes are glassy and her mouth is slack. She doesn't even remember her own name at this point. This little fucktoy is one worth keeping around. And judging by the wide grin dancing across her drool covered face, she had as much fun as we did today.

Selma Sins drilled down by two
cocks, brutal challenging
deepthroat on 10 inch BBC
multiple orgasms! | Selma Sins | Matt Williams | Jack Hammer
Apr 21, 2014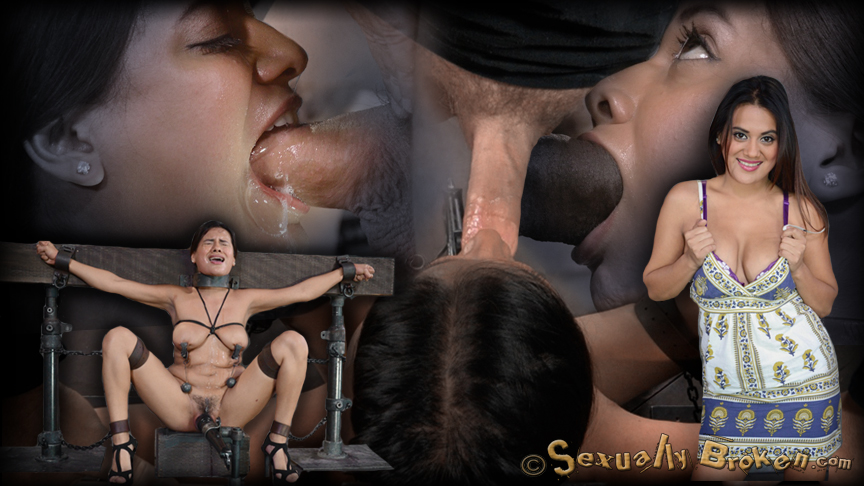 Selma Sins is an eager bundle of sex. This fresh faced Latina is a relative newbie to the industry, she brings both eagerness and enthusiasm to the table. We like a can do sort of attitude here at Sexuallybroken, and plan on rewarding it with cock. Lots and lots of rock hard cock jammed down her greedy little mouth hole. How will that can do attitude hold up under the unrelenting attention of multiple dicks? Let's find out, shall we?

Using a study wooden beam as a makeshift crucifix, Selma is shackled and spread out. A metal collar screwed into the wood holds her head and neck firmly in place. Thick metal cuffs keeps her arms spread out wide. A vibrator screwed down between her chained legs is the final touch. Her bound up breasts jut out proudly. It is go time. We step up and make ourselves at home. And by make ourselves at home, we mean reshape out her throat meat with cock. it is going to be an unrelenting training of her face pussy.

Selma can not move or shift her face away, and takes every inch of the cocks that are running a train on her mouth. All the while, the vibrator is going on full blast between her legs. She can no more close her legs then she can shift her head. She cums, hard, while the dick is buried deep down her throathole. We add some nipple clamps to those tied up breasts and keep up the pace of the deepthroat. Drool flows out of her well used mouth as the cock plunges in. We add some weights to the nipple clamps to remind Selma or her place.

As the training intensifies, she becomes more and more unraveled. The face pounding, the bondage and orgasms, all serve to blast her into sexual subspace. For all the dick Selma has done, she has never experienced anything quite like this. Her chest is heaving, her eyes are glazed and deep throat spit coats her belly, running down to her pussy and coating the vibrator. Selma produces one of a kind throat lube, it it so thick and sticky you could bottle it. The vibrator rips another orgasm out of her bound pussy as her eyes roll into the back of her head. We leave her crucified and shackled, shiny with drool and the vibrator still going full blast. Welcome to Sexuallybroken Selma...